Please take the time to write a review of our books on Amazon.
Memoir
Children's Books
Special Interest Topics
Bible Book Studies
Devotional Books
MEMOIR
Ready for Anything : The Heartaches, Blessings and Surprises of Pastoral Ministry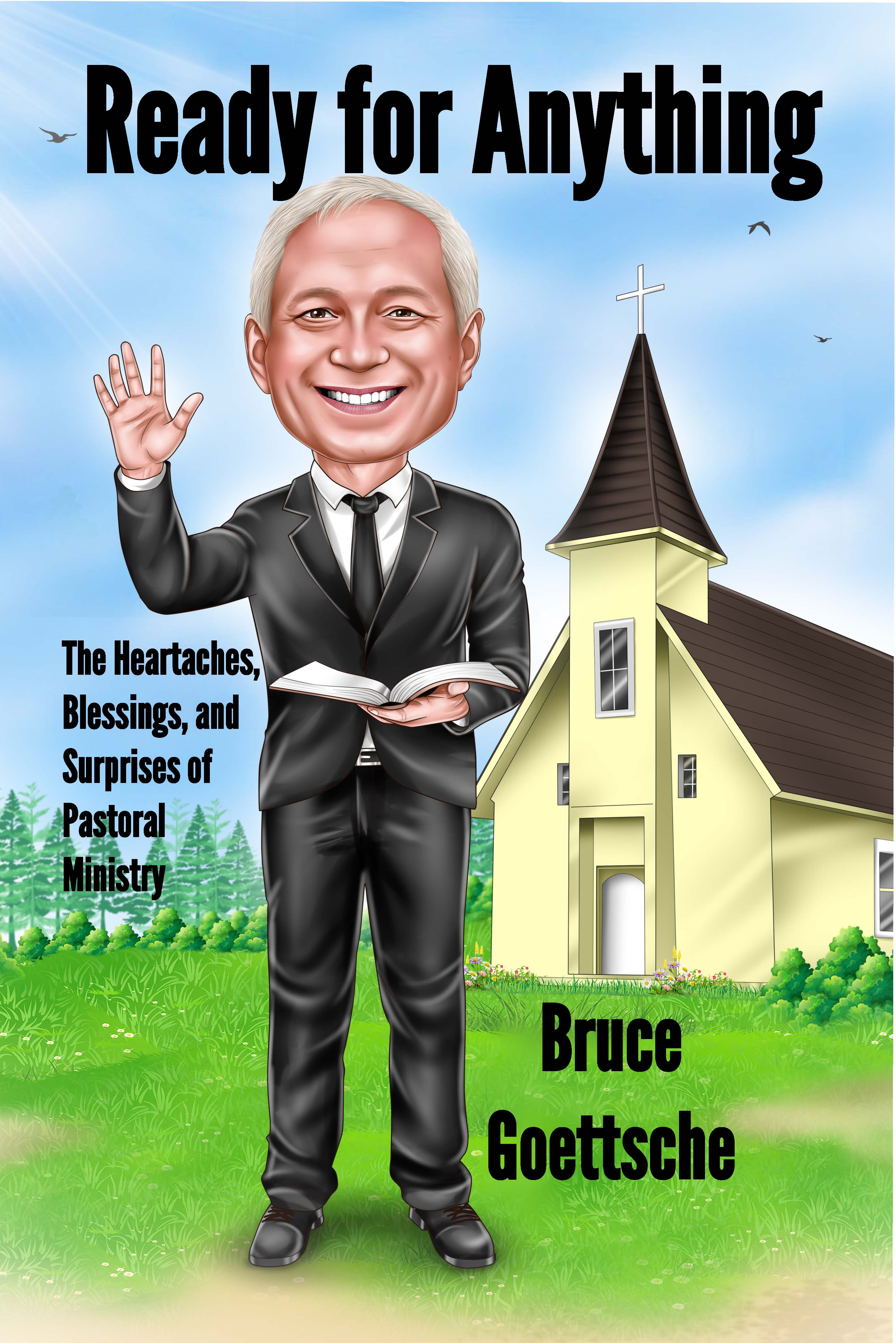 This book is a memoir from Bruce's life and ministry. The book records some of the fun, interesting, and sad stories from Bruce's ministry. The book is a quick read and the cost is $9.99. You can find it HERE on Amazon.
CHILDREN'S BOOKS
Chocolate Words

This book is designed to help Children understand the impact of their words. In an age of bullying the subject of gossip and our words is addressed in a way that will resonate with children and adults. Amazon
Just Different



Just Different
This is a book designed to encourage understanding and appreciation for each other. This book is dedicated to Jennie Maddox Amazon
MASTERPIECE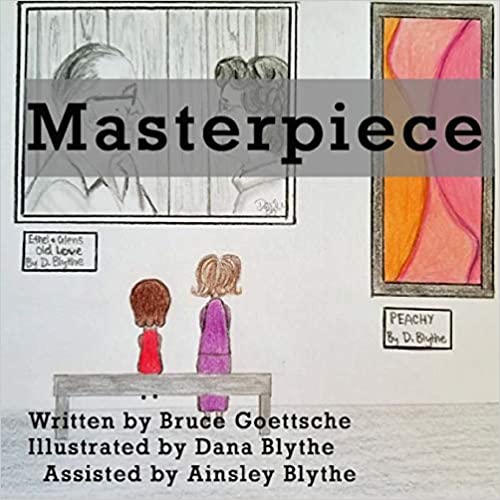 This is the first of Bruce's Children's Books. There is a simple message along with the Art of Dana and Ainsley Blythe. It is available on Amazon for $9.99. This is a book you can read to your children again and again.
SPECIAL INTEREST STUDIES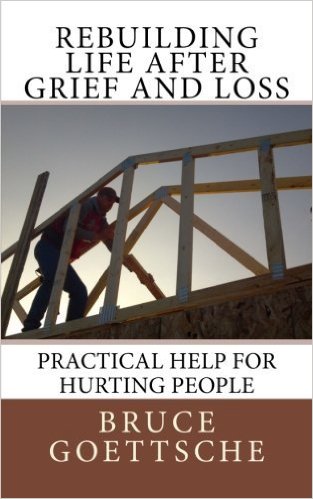 Rebuilding Life After Grief and Loss
Bruce Goettsche 99 pages Published by Amazon CreateSpace May 8, 2016
This is a brief book that looks at the nature of grief and how to survive these times of such deep pain. It also proposes some simple strategies to help you celebrate the life of the person who died and also find meaning for your own life in the future.
This is a good book to give to anyone who has experienced a loss in life.
Price: paperback $7.00 (Kindle $4.00) Order from Amazon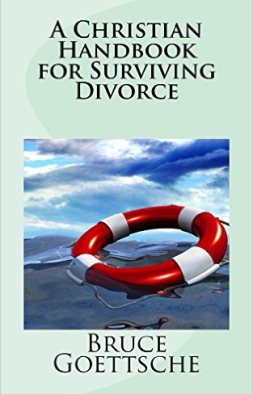 A Handbook for Surviving Divorce: When You Would Rather Still be Married
Bruce Goettsche 110 pages published by CreateSpace by Amazon 2015
This is a short book (100 pages in print that is designed to give very practical help to those who are going through or have recently gone through a divorce. In addition to describing why people have such a hard time getting through divorce, Bruce gives some ways to address the various issues that arise in divorce such as: The various losses that go with divorce; how to handle "special days", what to do about new relationships, and how to understand Biblical passages about divorce. Sometimes Christians have to add to the pain of the divorce the sense of shame that comes from feeling they have let God down. It is quick read you can give to friend.
The book is intentionally short recognizing that people going through the trauma of divorce have trouble concentrating. The book was published August 2015
Price: Book $7.50 Kindle 2.99 Order from Amazon



Difficult People: Dealing With Those Who Drive You Crazy
Bruce Goettsche and Rick Goettsche (Xulon Press)
This short ten chapter book is a practical handbook for dealing with the difficult people in your life. Father and Son team Bruce and Rick Goettsche draw principles from the Bible that are down-to-earth, life-tested, and intensely practical. The book has questions at the end of each chapter making it suitable for personal or group study. The book would be perfect for small groups, Sunday School classes and for leadership training. Available at Amazon.com in Print or e-book Format.
List Price: $14.99. Kindle $7.99 Order from Amazon.com
BIBLE STUDY BOOK STUDIES





Walking with Jesus -Ephesians 4:1-6:12
This is a look at the intensely practical words of Paul in Ephesians 3:1-6:12. Bruce and Rick teamed up on this book to cover topics such as: forgiveness, anger, kindness, honesty, marriage, parenting, and more. There are questions at the end of each chapter to facilitate group discussion.
Paperback price: $10.95
Kindle Price: $4.99



Faith Lessons: Lessons in Faith from Genesis
Bruce Goettsche, 283 pp paperback, (CreateSpace from Amazon 2001, 2017)
This is our most popular devotional book consisting of 30 chapters bringsto life the stories and people found in the book of Genesis. This is not a commentary but a series of "case studies" that will help you understand and appreciate the message of Genesis like never before. The chapters are short enough to read before bed or during your devotional times. You'll be surprised to see what you can learn from our forefathers in the faith. This is a new release of the original book. It now contains study questions and is available in paperback and Kindle format.
You can order or download the paperback or download the Kindle versions here



Lessons in the Wilderness: Life (Lessons from Exodus - Deuteronomy).
This book covers some of the key accounts of books 2-4 in the Bible. This book is a sequel to Bruce's first book: Faith Lessons: Lessons in Faith from Genesis.
There are 22 chapters and at the end of each chapter are questions for discussion. It is ideal for personal or group study.
Paperback: $12.99 Kindle: $5.00



Songs of the Heart: Psalms That Connect
Bruce Goettsche 200 pages published by Amazon CreateSpace 2014
Bruce looks at 18 Psalms. The goal of the book is to introduce us to the different kinds of Psalms and the way they practically speak to our daily lives and our honest pain. There is something in the Psalms for everyone. There are questions at the end of every chapter for discussion. The book can be used in Sunday School, Small Groups or times of personal devotion or enrichment. The book is available in print and at a greatly reduced Kindle format.
List Price 10.00 Kindle: $2.99 Order from Amazon.com



JOY: Finding It, Keeping It (book of Philippians)
Bruce Goettsche, 216 pp paperback, (Xulon Press)
People talk and sing about joy, but few seem to actually live joyfully. This is true not only of the world, but also of the church. Instead of joy, churches are often characterized by conflict, materialism, discouragement, lifelessness and aggression. In this book the words of Paul are carefully examined to discover principles we can apply to help us discover a joy that is unaffected by the prisons of our lives. This study of Philippians is ideal for personal or group study and has discussion questions at the end of each chapter. Available at Amazon.com in Print or e-book format.
List Price: $14.99 Kindle $7.99 Order from Amazon.com



Finding Your Way Through the Fog (Colossians)
Bruce Goettsche, 194 pp. paperback (Xulon Press)
When terrorism threatens, conflicts rage throughout the world, and living by Christian values becomes a cause for ridicule and abuse, we need a foundation that is solid. In this book Bruce uses Paul's letter to the Colossians to uncover basic principles for a solid faith. The first few chapters focus on understanding what we believe. The remaining chapters highlight biblical and practical values that reveal what we believe in the practical outworking of our lives. The book is clear, practical, and addressed to the everyday believer. It is ideal for individual or group study. Buy from Amazon in Print or e-book format.
Book includes study questions for group study. List price: $14.99 Kindle $7.99 Order from Amazon.com
DEVOTIONAL BOOKS


60 Days of Wisdom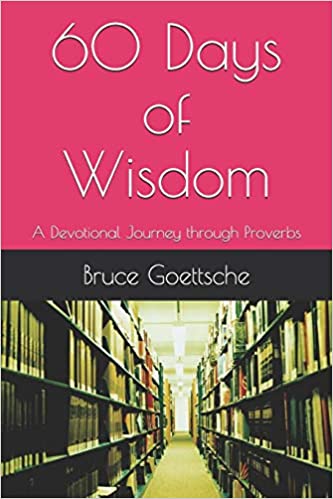 The Book of Proverbs is filled with practical wisdom and common sense. In this book Bruce reflects on 60 different texts from Proverbs in a devotional format.
This little book is a great way to start learning from the wisdom of God's Word.
The book is available on Amazon.
$6.99 Paperback
$5.19 on Kindle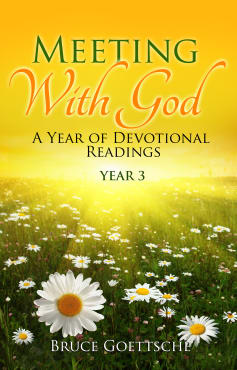 Meeting with God - Year 3
This is year three of the Daily Devotional books. There are readings, thoughts, and a prayer for all 365 days.
This book is dedicated to Maddie Finch.
Paperback: $16.00
Kindle: $6.99
Meeting with God: Year 2 (One Year Devotional)
This is a sequel to the first Meeting with God (see below). There is a Scripture and devotional thought for every day of the year. It is perfect for starting (or finishing) your day. It is also good for encouraging someone to delve deeper into the Christian faith. 377 pages
Paperback $17.50 (Kindle: $9.00)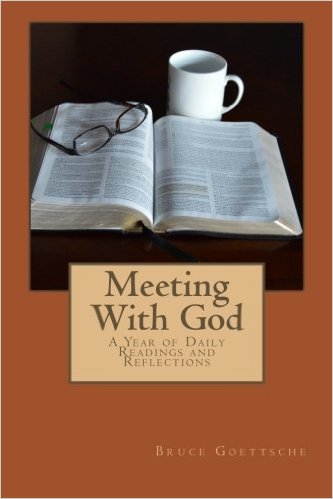 Meeting with God: A Year of Daily Readings and Reflections
Bruce Goettsche 375 pages Published by Amazon CreateSpace 2015
This book contains a scripture reading for every day, brief comments on the passage and a short prayer. it is designed to get you into the Bible on a Daily basis. The Days are numbered rather than dated so you will not be overwhelmed if you miss a day (we know how discouraging that is). There is a Scripture Index in the back of the book if you want to see if a particular passage is listed.
This is a good book for someone trying to establish a daily quiet time or as a gift to a friend you want to encourage in their faith.
Price: Paperback $17.99 Kindle: $9.00 Order from Amazon