Church Staff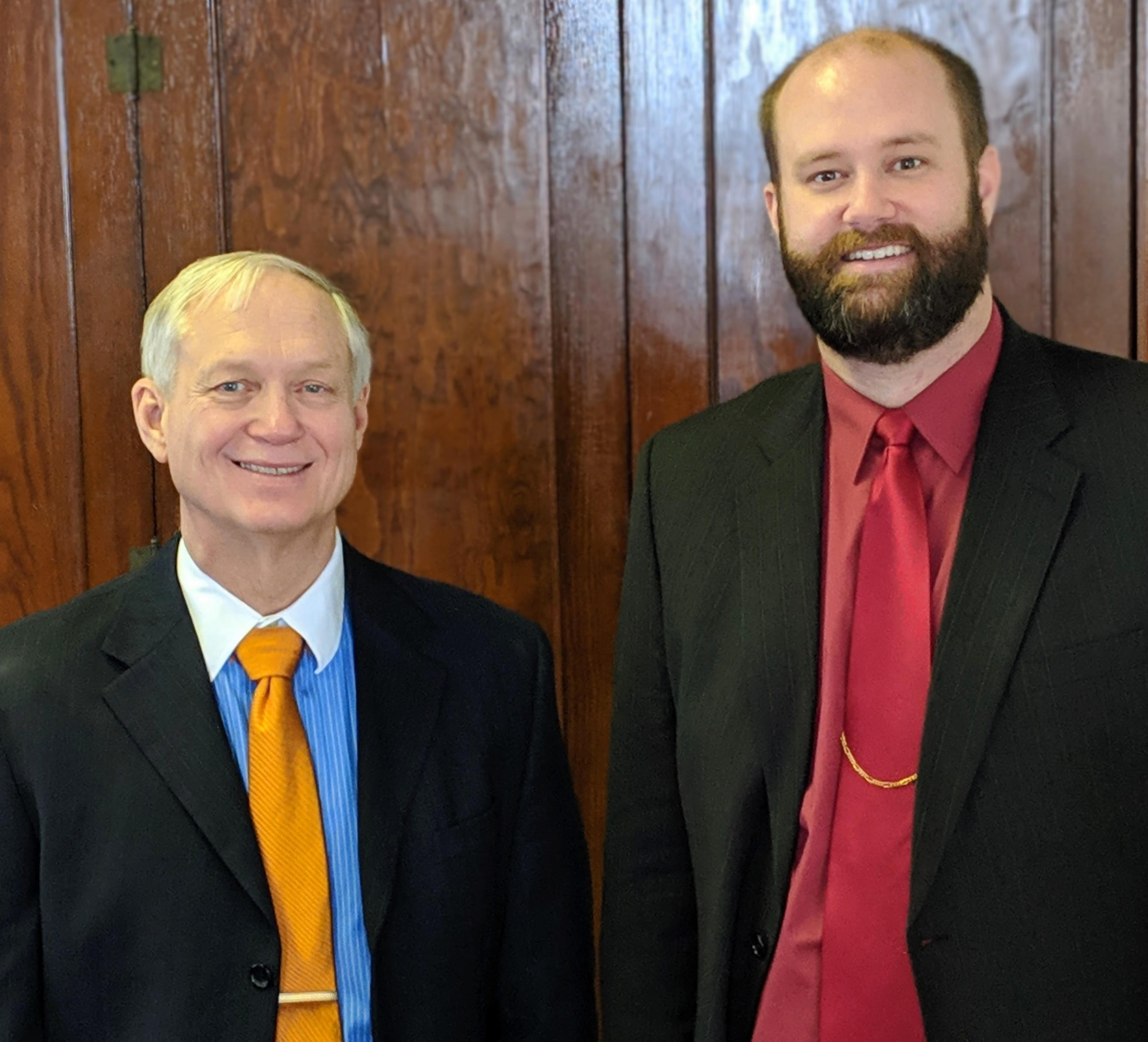 Rev. Bruce Goettsche (guy on the left) (last name pronounced "get-she") began his ministry in La Harpe in February of 1982. He is a graduate of Trinity University in Deerfield, IL where he received his B.A. in Biblical Studies; Northern Baptist Theological Seminary, where he earned both a Master of Arts in Christian Education, and a Master of Divinity degree. He was ordained in 1980.
Bruce is married to Debbie and has two children: Rick and Rachel and two step sons, Zeko and Derek. Rick works with his dad and Rachel is a Physical Therapist in the area.
Bruce's first book came out in May of 2001. Faith Lessons: Lessons in Faith from Genesis. He has written 18 other books (on a wide variety of topics) since then. You can check them out under "Growth Resources" on our website.
Bruce is featured (along with Rick) on the broadcast of "God's Truth for Daily Living" heard on several radio stations locally and across central Illinois and Iowa. You can listen to a recent archive of our broadcasts from the "God's Truth for Daily Living" tab under media ministries.
Bruce believes strongly in the systematic exposition of God's Word. He leads three Bible Studies each week, a Sunday School class, and is involved in a great deal of counseling. He works on the church web site and edits the daily radio broadcasts. He is from Chicago but loves the small town life. He is a Chicago Sports fan, and he loves to read and write.
OFFICE HOURS: Bruce is in the office every morning (including Saturday) except Tuesday (his day off) from 8:00-Noon. Afternoons and some evenings by appointment. bruce@unionchurch.com
Rev. Rick Goettsche, (pronounced same as above) Co-Pastor
Rick is indeed the son of the Senior Pastor. Rick joined our staff in August of 2006. He is a graduate with honors of Southern Illinois University Edwardsville with a bachelor's in biology. While in college, he served for three years as the president of the Baptist Student Ministries at SIUE. After graduation, he worked for Stephen Ministries in St. Louis. He graduated from Liberty Baptist Theological Seminary with a Master of Arts in Religion in 2011. He was also ordained in 2011.
Rick brings his love of music and his experience in the area of youth and outreach along with his knowledge of the LaHarpe community to his ministry. He is the "go to" Tech-guy at the church and is a popular photographer.
Rick is married to Ashlee, and has two daughters, Grace and Glory.
Rick co-authored Difficult People: Dealing With Those Who Drive You Crazy and Walking with Jesus with his dad. Rick is also a regular speaker on "God's Truth for Daily Living"
Rick has a love of science and apologetics (interesting combination, huh?). He enjoys playing the guitar and is fascinated by gadgets of every kind. Rick serves as a substitute teacher in several local school districts, teaches Sunday School, leads the High School Youth Group, is our Awana Commander and has a ZOOM bible study for young adults.
At present, he is in the office every morning except Thursday. To contact Rick@unionchurch.com
We have several part-time staff people:
DAVID CLOVER is our Church Manager and is usually the voice you will hear when you call the church and during the summers you will often see him at the concession stand grilling something. Dave handles all the business areas of our ministry. He also keeps the Pastors "on task."
Dave is a dad and grandpa and loves to golf and bowl.
Dave is in the office every weekday morning (he is not in the office on Saturdays). Dave is a member of the La Harpe City Council, helps coach Jr. High Girls Basketball and loves to Golf and Bowl. He is an avid Chicago and Illini Sports fan and an active supporter of local sports teams. He is usually found with a bucket of iced tea. Dave@unionchurch.com
CINDY ANDERS leads the Bells of Praise. Cindy is married to Tracy Anders. Cindy also plays the piano.
THELMA SMITH is our Organist and accompanist. Thelma has played the organ for over 40 years and has anchored the church music program for the last 30+ years. Thelma is married to R. A. Smith. Thelma is also involved in the Bells of Praise.
PHYLLIS BRUMMITT is the pianist at our 10:30 worship service. Phyllis is from Fort Madison, and has her Master's degree in Piano. Phyllis teaches piano and is married to Don Brummitt. Phyllis graduated from Moody Bible Institute.
LYNNE WARD, KATHY BUTLER, and MARY ANN SIEGWORTH all serve as our pianists at our 8:00 a.m. worship.
TERI FINCH is our custodian.